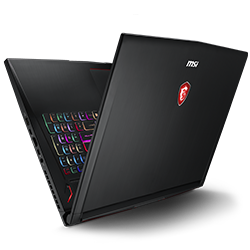 GS73 Stealth 8RF-017AU
Intel® Core i7-8750H
GeForce® GTX1070 8GB GDDR5 with MAX-Q Design
Per-Key RGB Backlight Gaming Keyboard by Steelseries
17.3" Full HD (1920x1080), 120 Hz/3ms
Ultra slim 17.3" gaming notebook with 19.6mm thin, Weighting Merely 2.4kg
Hi-RES Audio Ready
$3699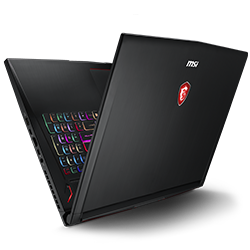 GS73 Stealth 8RE-013AU
Intel® Core i7-8750H
GeForce® GTX1060 6GB GDDR5
Per-Key RGB Backlight Gaming Keyboard by Steelseries
17.3" UHD (3840x2160), IPS level, 100% Adobe RGB
Ultra slim 17.3" gaming notebook with 19.6mm thin, Weighting Merely 2.4kg
Hi-RES Audio Ready
$3399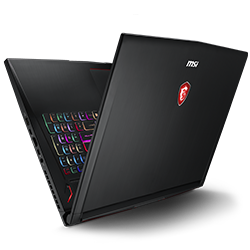 GS73 Stealth 8RE-028AU
Intel® Core i7-8750H
GeForce® GTX1060 6GB GDDR5
Per-Key RGB Backlight Gaming Keyboard by Steelseries
17.3" Full HD (1920x1080), 120 Hz/3ms
Ultra slim 17.3" gaming notebook with 19.6MM THIN, WEIGHING MERELY 2.4KG
Hi-RES Audio Ready
$2999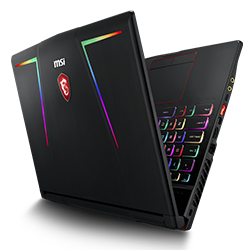 GE63 Raider RGB 8RF-089AU
Intel® Core i7-8750H
GeForce® GTX1070 8GB GDDR5
Per Key RGB Backlight Keyboard by Steelseries
15.6" Full HD (1920x1080), 120 Hz/3ms
Lighting top cover design with RGB Mystic Light
Hi-RES Audio Ready
$2999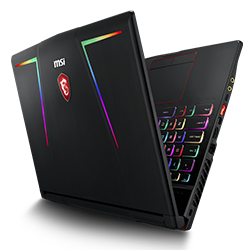 GE63 Raider RGB 8RE-090AU
Intel® Core i7-8750H
GeForce® GTX1060 6GB GDDR5
Per Key RGB Backlight Keyboard by Steelseries
15.6" Full HD (1920x1080), 120 Hz/3ms
Lighting top cover design with RGB Mystic Light
Hi-RES Audio Ready
$2499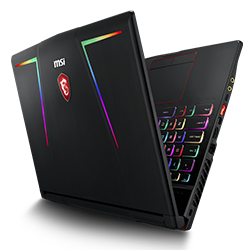 GE73 Raider RGB 8RE-086AU
Intel® Core i7-8750H
GeForce® GTX1060 6GB GDDR5
Per Key RGB Backlight Keyboard by Steelseries
17.3" Full HD (1920x1080), 120 Hz/3ms
Lighting top cover design with RGB Mystic Light
Hi-RES Audio Ready
$2599
Package 3: Buy Selected Laptops and Redeem Limited Lootbox Level 1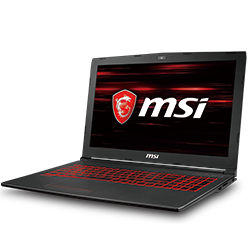 GV62 8RC-059AU
Intel® Core i5-8300H
GeForce GTX1050 2GB GDDR5
Gaming Keyboard by SteelSeries with red color backlighting
15.6" FHD (1920x1080), 94%NTSC Wide-View
MSI Audio Boost design enhances sound detail by 30%
Nahimic 3 Audio Technology delivering 360⁰ immersive audio experience
$1399
Terms and Conditions
1. Promotion periods are varied by different Models. Please refer to above offers.
2. The bonus gifts are limited while supply last.
3. The offers are available for Australia and for certain eligible MSI laptop models/SKUs only. Actual gifts may vary by different models and series.
4. We recommend you to check with your local supplier for exact offers. All images and descriptions are for illustrative purposes only.
*Offer/program subject to change. MSI reserves the right to change the terms or conditions of this offer/program at any time without notice.
Redemption Process
Step 1:Create / Log into your account on MSI Registration center
Step 2: Register your product[s] and upload your invoice
Step 3: Check the promotions which your product can be applied after product registration complete.
Intel, the Intel Logo, Intel Inside, Intel Core, and Core Inside are trademarks of Intel Corporation in the U.S. and/or other countries.