Come visit Hall B, B01:20, November 24th through 27th, for pro-style Overwatch tournament, legendary MSI GAMING series, untethered VR experiences, awesome cosplayers and streamers, great giveaways and more.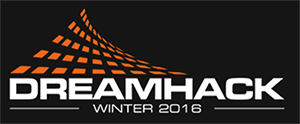 [Taipei, Taiwan] Gamers and devoted DreamHack fans from all over the globe converge at the Elmia Exhibition Centre today to celebrate the kickoff of the eSports extravaganza DreamHack Winter 2016, namely the world's largest digital festival and LAN party featuring live concerts and gaming competitions as well as DreamExpo, cosplay and a celebration on all things Internet. A world leader in gaming hardware, MSI has its full range of VR-ready gaming hardware on display and teams up with eSports heavyweight FNATIC to present signing sessions and Overwatch tournament with registered players. November 25 on DHW's main stage, there will be hardware announcement of the MSI Trident, the smallest VR-ready gaming PC. Plus, the breathtaking VR experience zone, the creative cosplayer Laura Sipilä and the awesome streamers all add to the excitement that's happening 24/7 and keeping all attendees in high spirits. Be sure to visit MSI in the DreamExpo in Hall B for a glimpse into the future of gaming.

MSI Sponsored FNATIC to Fight for DHW 2016 Overwatch Championship
During the event, the DHW Overwatch Championship will take place onstage in Hall D on November 25th and 26th. MSI sponsored eSports team FNATIC, qualified for a spot at the North America Championship during DHW, will face off against Ninjas in Pyjamas and Misfits from MSI's MGA 2016 European qualifier as well as four challengers who emerge victorious from the BYOC tournaments of DreamHack Winter. Come cheer for your favorite team and may the best team win!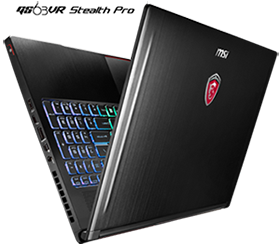 MSI Showcases Revolutionary Solutions for VR Gaming
As well as watching all the action and excitement unfold, fans and visitors have the opportunity to go hands-on with MSI's VR-ready gaming rigs driven by gamer-inspired, future-ready technology. Gamers' all-time favorites, MSI's GTX 10 Series gaming laptops and graphics cards are the center of so much attention. A Pascal-powered backpack PC, the MSI VR One represents the future of VR gaming. With sufficient storage, proficient cooling and blistering graphics performance, the MSI Aegis Ti & Trident guarantee uncompromising gaming experiences. Performance and features aside, the MSI TITANIUM & CARBON series motherboards redefine motherboard aesthetics.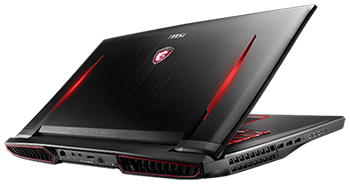 Pro-style Overwatch Tournament with FNATIC and MSI GAMING Rigs
Eager to meet eSports superstars? If you join the crowd in Hall B, you may catch FNATIC hanging out at MSI's booth, signing autographs and showing off their MSI GAMING rigs. You will also be able to experience the latest notebook lineup from MSI in the Overwatch tournament and gaming area at the MSI booth.

The pro-style Overwatch 6 vs 6 tournament features pro-gamers from FNATIC to compete against registered players using world-class MSI GAMING laptops and PCs. Among the weapons of choice, all MSI GAMING laptops are Pascal-powered to maximize graphics performance. The MSI GT83VR Titan SLI comes packed with dual GeForce® GTX 1080/1070 graphics to fuel VR and 4K gaming with stunning visuals. The GT73VR Titan Pro with GeForce® GTX 1080/1070 graphics is an enthusiast gaming powerhouse with a gorgeous 120Hz/5ms display. The powerful GT62VR Dominator is a premium gaming platform with GeForce® GTX 1070/1060 graphics. Both powered by GeForce® GTX 1060 graphics, the GS63VR Stealth Pro is the world's thinnest 15.6" gaming laptop while the ultra slim GS73VR Stealth is an award-winning gaming laptop that delivers buttery smooth motion.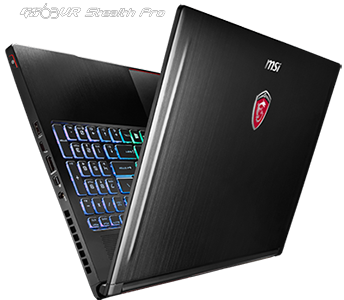 Come see for yourself the gaming weapons that accompany FNATIC through numerous victories!

MSI VR One Promises Untethered VR Experiences
The presence of cables is a key hindrance to a fully immersive VR experience. At DreamHack Winter 2016, MSI brings freedom into VR and showcases untethered VR experiences with MSI VR One, the world's lightest and thinnest backpack PC. Weighing in merely 3.6kg, MSI VR One comes with 2 hot swappable battery packs to deliver a combined 90-minute untethered VR gameplay. Fueled by overclocked CPU and GeForce® GTX 1070 graphics, MSI VR One is able to deliver full throttle gaming performance silently under 41dBA.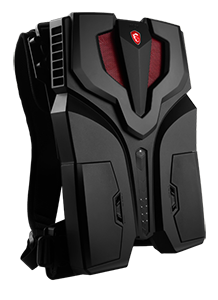 Redefining True Gaming with MSI Trident and Aegis Ti
Introducing world's smallest VR Gaming desktop that's extremely compact and with desktop performance levels that fit any gamer's demands, we are taking gaming to the next level with the new MSI Trident.

Trident uses a customized MSI GeForce® GTX 1060 gaming graphics card to ensure that gamers get a powerful machine. Coupled with MSI's exclusive Silent Storm Cooling 2, not only is its cooling efficiency unmatched, it also stays as quiet as an assassin. Trident redefines the size needed for true PC gaming and will let gamers bring true gaming desktop performance everywhere.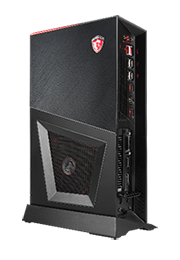 MSI Aegis Ti is the ultimate expression of gaming power and performance for gamers who want only the best. The Aegis Ti uses a powerful unlocked Intel® Core™ K-series processor to give gamers ultimate overclocking abilities. On top of that, Aegis Ti houses MSI GeForce® GTX 1080 graphics card. For even more power, the Aegis Ti is 2-way SLI Ready meaning you can double the GPU power for maximum FPS at the highest settings for the best possible graphical performance. Besides all extreme hardware, Aegis Ti features a breathtaking case design that is unmatched and easy to upgrade thanks to its unique interior layout. Coupled with its own Silent Storm Cooling 3 Pro solution, the system is kept cool and quiet simultaneously with a top-notch gaming experience.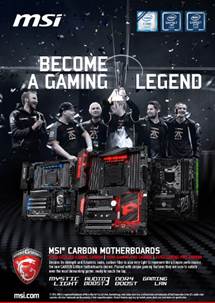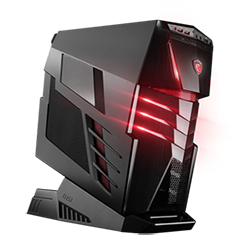 MSI TITANIUM & CARBON Series Motherboards Redefine Motherboard Aesthetics
MSI's TITANIUM & CARBON family of motherboards have been receiving rave reviews thanks to their combination of features, stability and of course, amazing good looks. With X99 and Z170 models available, MSI's TITANIUM & CARBON series also bring fantastic overclocking a look that will make your rig stand out from the crowd.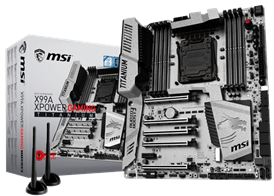 MSI GeForce® GTX 10 Series GAMING Graphics Cards
MSI will showcase the latest Gaming Graphics Cards equipped with its class leading TWIN FROZR VI Thermal Design. These cards build on the enormous legacy of MSI's #1 position in Gaming graphics. When kept cool with MSI's exclusive TORX 2.0 fans and Zero Frozr technologies, TWIN FROZR VI equipped cards provide new standards for low-noise and low-temperature Gaming graphics.
MSI @ DREAMHACK WINTER 2016